Soft and fruity mango flan that comes with passion fruit juice, shredded coconut, and caramel on top! A fresh and delicious summer dessert!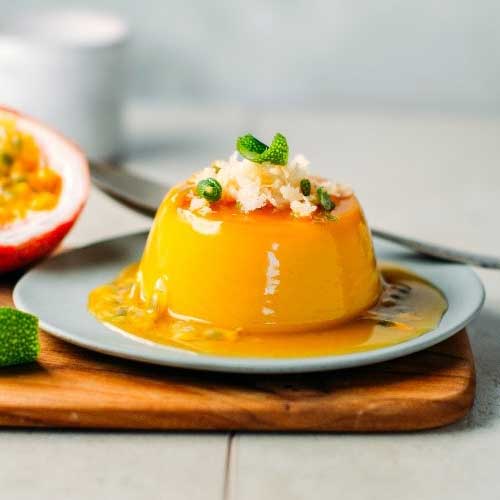 Ingredients
2 tbsp (30ml) maple syrup
2 tbsp (22g) coconut sugar
1/4 tsp white vinegar (or lemon juice)
MANGO FLAN
2 cups (around 300g) diced ripe mango (fresh or frozen, thawed)
1 cup (236ml) full-fat coconut milk
1/4 cup (60ml) almond milk
1 tbsp (15ml) maple syrup (can omit if you don't want it too sweet)
2 tbsp cornstarch
1 and 3/4 tsp agar agar powder
optional: 1/4 tsp finely grated lime zests
2 tbsp (30ml) passion fruit juice (strained from 1 passion fruit)
FOR TOPPING
3 passion fruits
Shredded coconut, granola, and/or coconut milk
STEPS
1. Start with the caramel. Add the maple syrup, coconut sugar, and white vinegar to a small saucepan. Heat over medium heat, stirring regularly until it starts to boil. Once boiling, let it boil for about 30 seconds, keeping an eye on it to make sure it doesn't burn.
2. Immediately remove from heat and divide the caramel into 4 medium ramekins (or 6 smaller ones). Tilt each ramequin to spread the caramel into the bottom. Set aside and let it cool for at least 20 minutes. The caramel will harden.
3. Place the diced mango, coconut milk, almond milk, and maple syrup in a blender and blend on high speed for a few seconds, or until smooth. Taste and adjust sweetness to your liking. Transfer to a medium saucepan.
4. Add the cornstarch, agar, and lime zest to the saucepan. Whisk to dissolve the cornstarch and agar.
5. Heat over medium heat, whisking constantly until it comes to a boil. Once boiling, remove from heat and stir in the passion fruit juice. Let cool 2-3 minutes before pouring into the ramequins, over the caramel.
6. Let cool at room temperature for about 10-15 minutes before transferring to the refrigerator. Chill at least 8 hours before eating.
7. To serve, run a knife along the edges of each ramequin, cover with a plate and flip it. The caramel will be on top and cover the creme. Serve fresh, topped with the pulp from half a passion fruit, shredded coconut, and a drizzle of coconut milk!
8. Flans will keep for up to 3 days in the refrigerator.