Ingredients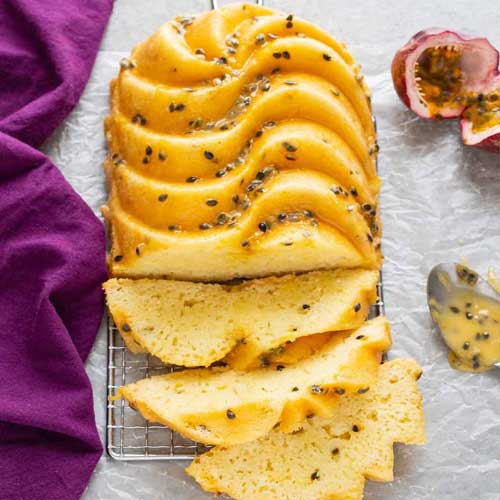 1 3/4 cups cake flour
1 1/2 teaspoons baking powder
1/4 teaspoon baking soda
1/4 teaspoon salt
1 cup granulated sugar
2 tablespoons lemon juice, freshly squeezed
2 tablespoons fresh passion fruit puree
1 lemon, zested
1/3 cup plain yogurt
3 large eggs
1/2 full fat coconut milk
Glaze:
1/4 cup passion fruit puree
1 cup confectioners' sugar
1 tablespoon lemon juice, freshly squeezed
Steps
Preheat oven to 350 degrees
Grease loaf pan thoroughly with cooking spray.
In a medium bowl, whisk together dry ingredients; cake flour, baking powder, baking soda, salt and set aside.
In another medium bowl, whisk together wet ingredients; sugar, lemon juice, passion fruit puree, yogurt, eggs, coconut milk and zest.
Make a well in the center of the dry ingredients then gently pour wet ingredients into the center and whisk to combine.
Pour butter into loaf pan.
Bake for 30 minutes, cover with aluminum foil and bake an additional 5 minutes or until a toothpick inserted into the center comes out clean. Remove from oven and allow to cool completely.
While the cakes are cooling, whisk together passion fruit puree, powdered sugar and lemon juice.
When cakes are cool, drizzle glaze over the top. If desired, garnish with extra zest.