Ingredients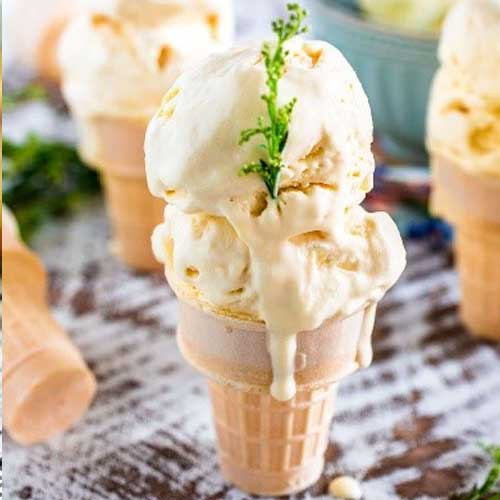 1 can sweet condensed milk

14 ounces frozen passion fruit pulp, thawed (about 2 cups)

2 cups heavy cream, very cold

PASSION FRUIT SAUCE: (OPTIONAL)
1/3 cup fresh passion fruit pulp, with seeds
2/3 cup sugar
1 teaspoon cornstarch dissolved in 1 cup of water
A pinch of salt
Steps
Start by putting your heavy cream in the freezer for 10 to 20 minutes, so it can be super cold!
To make the ice cream, whisk together the sweet condensed milk and the passion fruit juice. Reserve.
Using a hand or stand mixer, whip the heavy cream until it holds stiff, billowy peaks, about 3 minutes. Turn the speed to low and add the passion fruit/sweet condensed milk mixture. Mix just until combined.
Transfer the ice cream mixture to a freezer safe container and cover with a piece of wax paper, pressing it against the surface to prevent ice crystals from forming.
Freeze for at least six hours, or up to 2 weeks: The ice cream will become more firm the longer you let it freeze.
If making the sauce, drizzle over the ice cream before serving!
TO MAKE THE PASSION FRUIT SAUCE:
In a saucepan, combine the passion fruit pulp, sugar and salt. Cook on medium low until it thickens slightly. Add the cornstarch dissolved in water and cook for a couple minutes longer, until thick. Remove from heat and let it cool to room temperature. Transfer to the fridge and chill for at least one hour before serving. It will keep in the fridge for up to a week.