Ingredients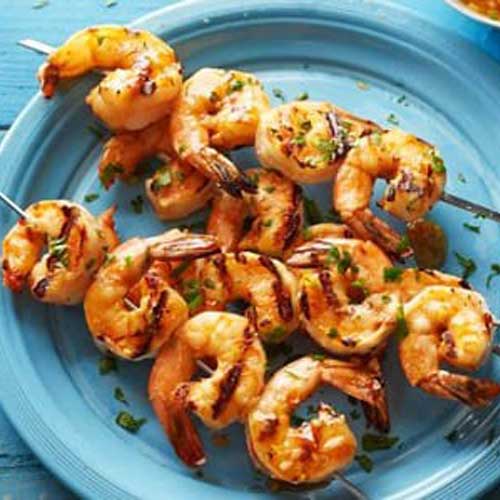 2 lbs or 1 kg of raw shrimp, deveined. Shells can be kept on or taken off, depending on your preference.
15-20 skewers.
Passion fruit marinade:
1 to 2 teaspoons of ground cumin.
1 teaspoon of chili powder.
1 tablespoon ground achiote or annatto powder.
2 tablespoons of olive oil.
½ cup pure passion fruit juice or concentrate, unsweetened.
Salt and pepper
Achiote butter for basting:
2 tbs of melted butter.
½ tbs ground achiote.
Dipping sauces and sides:
Spicy cilantro salsa.
Spicy avocado salsa.
Lime slices.
Steps
In a large bowl, cover the shrimp with the passion fruit marinade ingredients and let it sit for at least 2 hours in the fridge.

Pre-heat the grill.

Put the shrimp on the skewers. If the skewers are a main meal put 5-6 shrimp on each skewer and for an appetizer put only 3-4 shrimp.

Brush the shrimp with the melted butter achiote right before placing on the grill.

Grill for about 3-4 minutes on each side or until the shrimp are fully cooked and they have turned completely pink. Baste with the achiote butter as needed.

Serve with dipping sauces and lime slices or on top of your favorite salad.