Ingredients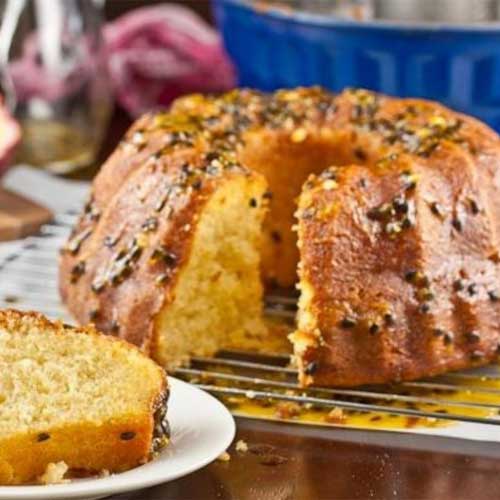 150 g of butter softened
220 g of caster sugar
1 teaspoon of vanilla extract
3 eggs
1 cup of thick Greek yoghurt
300 g of self raising flour sifted
passion fruit syrup
1 cup of passionfruit pulp
125 ml of water
110 g of caster sugar
Steps
Preheat the oven to 160 degrees Celsius (320 Fahrenheit) and lightly grease a 24cm bundt tin.

To make the passionfruit syrup, combine the passionfruit pulp, water and sugar in a saucepan over a medium heat. Bring to the boil and then reduce heat to low and cook for 10 to 15 minutes. Set aside while you make the cake.

Combine the butter, sugar and vanilla extract in the bowl of an electric mixer fitted with a paddle attachment and beat until pale and creamy.

Add the eggs to the mixture, one at a time, beating well between each addition.

Add the yoghurt and beat well before switching the mixer to it's lowest speed and combining the flour.

Spoon the mixture into the prepared bundt tin and bake for 35 minutes, or until tested with a skewer.

Remove the cake from the tin and pierce all over with a cake skewer while still hot before drizzling the syrup all over.