Ingredients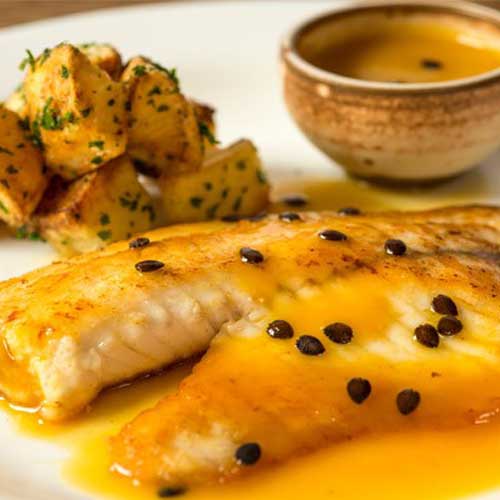 4 Saint Peters (tilapia) fillets (100-150 g / 3-5 oz each)

500 ml (1 pint) strained passion fruit pulp or juice

1 tbsp passion fruit seeds

40 ml (1.5 fl oz) dry white wine

2-3 tbsp honey

80 g (3 oz) butter, diced

4 Tilapia fillets

1 tbsp olive or vegetable oil
½ lime

Salt and black pepper to taste
Steps
Combine the strained passion fruit pulp or juice, white wine and honey in a saucepan. Bring to a boil and reduce until slightly syrupy.

Over low heat, add the butter cubes to the pan, one at a time, stirring constantly. Season the sauce with salt and pepper to taste and, right before serving, stir in the passion fruit seeds.

Season the fish fillets with salt, pepper and lemon juice. Cook them on a very hot griddle with a drizzle of olive oil, on both sides. Serve immediately, with the passion fruit sauce.