Ingredients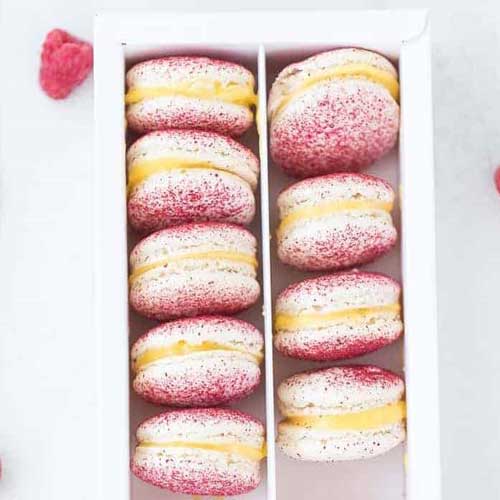 ¾ cup sugar
3 tablespoons cornstarch
1 cup passionfruit puree
3 egg yolks, whisked in a small bowl
6 tablespoons butter, cut in pieces
FOR THE MACARON SHELL:
110 g almond meal/flour
155 g confectioner's sugar
90 g egg white (3 large egg whites)
55 g granulated sugar
¼ teaspoon cream of tartar
1/4 cup freeze dried raspberries, finely crushed
Steps
FOR THE PASSIONFRUIT CURD:
1. In a medium saucepan set over medium heat, combine the sugar with the cornstarch and add in the puree. Cook, stirring, until thickened and bubbly. Gradually whisk in half of the hot mixture into the egg yolks to temper the eggs.
2. Return the egg mixture to the saucepan and cook, stirring constantly, until the mixture thickens, about 2-3 minutes. Remove from heat and add in the butter pieces. Whisk until melted.
3. Transfer curd into a small bowl and cover with plastic wrap pressed against the top. Chill for at least 4 hours, preferably overnight until set.
FOR THE MACARON SHELLS:
1. Line two sheet pans with parchment paper. I used a 1½-inch round cookie cutter to draw circles on the parchment paper and flip over the paper (drawing side down). Prepare a pastry bag with a round tip. I used Wilton 2A.
2. Using a food processor, pulse the powdered sugar and almond flour. Sift several times until there is less than 2 tablespoons of almond bits left. Add these to the mixture.
3. In the bowl of an electric mixer with the whisk attachment, combine the egg whites, cream of tartar, and sugar. Whip on medium-high speed until stiff peaks form, about 5-7 minutes.
4. Add the dry ingredients to the meringue and fold with a rubber spatula. Gently fold to deflate the meringue by pressing against the side of the bowl and scooping from the bottom until batter is smooth and shiny; about 20-25 folds. To check consistency, drop a spoonful of batter and it should have a peak that quickly relaxes back into the batter. Start checking the batter around 18-20 folds.
5. Transfer batter into pastry bag and pipe the batter into the pre-traced circles on the baking sheet. Tap baking sheet hard on a counter to release any air bubbles trapped in the batter.
6. Using a fine sieve, gently sift the finely crushed freeze-dried raspberry powder over the shells. A thin coating of the raspberry powder is sufficient.
7. Let shells sit on a counter for at least 30 minutes and up to 2 hours to dry. When you touch the shells, they should not be sticky.
8. Preheat oven to 300 degrees F. Bake for 15-20 minutes or until shells hardens, rotating cookie sheets halfway through baking time. You should be able to peel off the macaron from the parchment. Cool completely on cookie sheets before peeling from the parchment.
9. Using a pastry bag fitted with a large round or star tip, fill macarons with the passionfruit curd. Store in refrigerator until ready to serve. Allow to get to room temperature before enjoying!